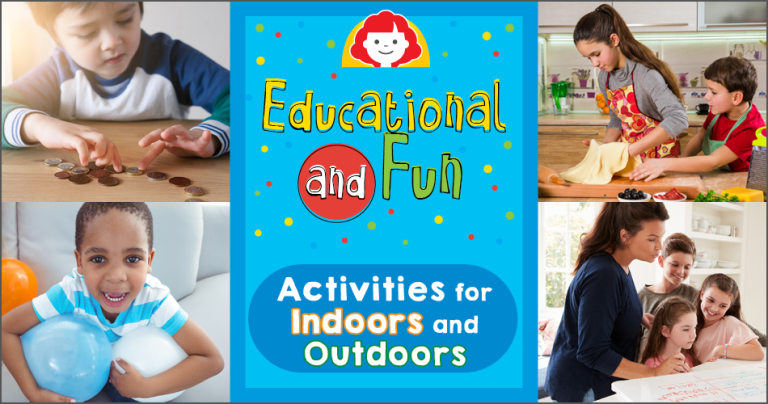 Looking for activities to keep your children busy at home? Discover new activities and projects that will keep your child occupied and engaged without feeling like extra work for you or them! Check out educational activity ideas like counting money and reading activities, outdoor activities like scavenger hunts, and indoor crafts and projects that keep your child thinking and having fun! Look out for the free activity downloads!
Reading
With libraries closing, keeping children reading can be a challenge. You can always download digital copies of book purchases from Amazon. Have your child read aloud for 20 minutes (grades K-2) or read quietly for 30 minutes (grades 3-8). Check for understanding by asking your children questions about what they reading?
A few questions could be:
What was the author's purpose?
Why did they write this?
What is the main idea?
Who, What, Why, Where, How are all good questions to start with.
If you have a reluctant reader at home, try using an incentive such as 20 minutes of reading for 20 minutes of tech time or television.
Counting Money and Telling Time Grades K-2
For younger children, this is an essential skill that is easy to practice! Round up your change around the house and some paper and pencils for these easy activities.
Teach your child to identify and name common coins and bills
Starting with coins, have then count and add the amounts of specific coins in their head for mental math. Start with small coin amounts and progress in difficult.
Create word problems and have your child use scratch paper to write the answer. (It is always a good idea to incorporate writing and check for understanding by having them write a sentence or two on how they solved the problem.)


Ex. Ava has $10 to spend at the store. She picked up milk for $5.78, eggs for 3.25 and a back of chips for $1. 69. How much money will she need? Does she have enough?

Ask your child what time it is throughout the day, making sure you have a classic clock around.
Have your child draw a clock and draw hands for what time it is, or give them a clock drawing and ask them what time the clock says.
Outdoor Activities and Games
For when your children need to burn some energy, get some fresh air, and take a break from educational activities, check out some of these fun ideas!
Obstacle Courses

: using objects from around the house (hula hoops, pool noodles, jump ropes, boxes, etc…) create an obstacle course for your kids! They'll love running through it, and give them a chance to design and test their own obstacle courses.

Balloon Volleyball

: divide your yard into two with a rope or jump rope (or use a net if you have one) and play volleyball with a balloon! Don't let it touch the ground!

Scavenger Hunts

: set up a scavenger hunt in your house/yard. Your kids will love hunting down objects or following clues. For extra fun, have them draw a treasure map to find "buried" treasure.

Tag Games

: Classic tag, freeze tag, etc. are great games that will leave your kids tired! Try making up your own version of tag!
Cooking Activities and Recipes
Cooking and baking are fun for everyone, and you're rewarded with a treat at the end! What kids don't realize is that cooking and baking involve a lot of science and math. Challenge your child with questions about fractions, measurements, and how certain ingredients interact with others! Include your kids in the kitchen while making meals. Here are some fun and easy recipe ideas:
Art, Crafts, and Hands-on Projects
Arts and Crafts are fun but sometimes take a lot of materials. Here are some ideas and activities that require things you probably have around the house!
Paper towel roll marble run: Using leftover toilet paper and paper towel rolls, make a marble run for your kids. Use tape to hold the rolls together, and cut holes in the rolls to create your very own marble run!
Build a tower out of marshmallows and toothpicks: Remember, for stability, build from a wide base, up. Below is a free download about earthquakes with an experiment using mini marshmallows, toothpicks and gelatin (from Evan-Moor's Skill Sharpeners: Science activity book, Grade 4.)
Download the free science activity pages here.

Superhero Project:

 With this superhero unit from Skill Sharpeners Critical Thinking activity books, kids can imagine what it would be like to be a superhero! There are short writing, reading, and math activities, and at the end children will get a chance to create their own superhero comic! The unit includes templates and cut-out super hero outfits for your child's comic.
Download the free superhero activity here.


Chore Time and Writing
Introduce simple chores your child can complete at home based on their age and have them write "how to" instructions.
Kindergarten and first grade should start with a simple sentence such as "I can help with chores (you will need to spell non sight words such as "chores" or have them practice sounding it out. Kindergarten sample chore list:


Pick up toys
Make bed
Clear table after meal
Help make lunch (simple sandwich)
Learn how to fold a shirt

Grades 2-3
Write a paragraph (2nd) and multiple paragraphs (3rd) using transition words such as first, next, then, last and write multiple sentences supporting a main idea. For example: How to organize your bedroom toys.
Chores for this group could include:


Cleaning a bathroom
Organizing a closet
Proper way to load a dishwasher
How to walk your dog
Tips for picking weeds (or gardening)

Grades 4-6
Write a multi paragraph essay on what you do well. Children can choose their favorite chore or an activity they are good at to write a detailed description for "how to." Upper grades can type out their paragraphs in google docs and include fun pictures. This activity could take the place of a weekly writing assignment by having children complete a new step every day. Brainstorming with a graphic organizer is a great way to start to encourage new ideas and organization.

*Have children edit their writing when they are finished. (Up the stakes and offer a small reward for each mistake fixed.) 

About the Author: Christine Wooler has experience working with children as a youth soccer coach and summer camp counselor. She is currently studying English Literature and journalism in college. She enjoys exploring educational topics that help students have fun while learning.