When parents come into my classroom, one of the comments that I often hear is, "You're so organized!" And yep, I can't help it; I just am. If you are not naturally organized like me but want to be, this blog is for you. It's "Classroom Organization 101!"
First, I will suggest three guiding principles for setting up your classroom so it looks great and is clutter-free wherever you look. (To be honest, my cabinets WOULD be more organized if I had more space!)

Here Are the Organization Rules:
1. If you haven't used it in the last two years, get rid of it. Yep, it's time to retire that frog bulletin board set that you made in 1990. It's time to purge. Trust me, you'll feel better for it and you'll have more room to put things in their place.

2. It's all about the containers. Plastic boxes, baskets, colored cups, crates, and coffee tins should become your new best friend. By putting things in a specific "home," everything stays so much neater. If you take it one step further and label the box, it's even better! Things that have a well-defined home can be put into their place and not into a random pile that becomes clutter. So where do you find good containers? You can find cheap boxes and baskets at the Dollar Store, Michael's, Hobby Lobby, and even Target or Walmart. I love the plastic ones, as they last for years.


Here are some things that I like to put into containers:
Extra markers, crayons, colored pencils, glue bottles, scissors, rulers, erasers for whiteboards, scrap paper, books, CDs, DVDs, finished work, post-it notes, paper clips, rubber bands, pencils, pens, band aids…and the list goes on…
3. Teach your students procedures to encourage them to be more organized. First, they need to know how to keep the things neat that you've worked so hard to organize. Teach procedures for how to use items and what to do when you're done with an item (e.g., close the lid to the glue or put the books with the red dots into the basket with the red dot). Next, teach kids to keep their own desks organized and neat. Explain to them in specific terms what that means. For example,
How many pencils should be in their desk
How many library books they should have
What they should do with loose papers or unfinished work
These are classroom skills that will help them throughout their school career, and maybe even in their personal life.
Baby steps, my friend… you can do this! Start by sorting things as you can.
A box or a shelf a day will add up to real progress as the year goes by.
Go shopping for colorful plastic baskets. They're like shoes…you can never have too many!
Sort the things you need and the supplies your students will use and give them a "home."
Add labels.
Teach students procedures.
Follow these simple steps, and you'll be on your way to becoming an organizational addict—like me!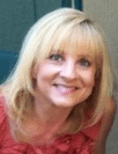 About the Author
Jenn Larson has been a teacher for 20 years and has taught grades K–5 at least once but has enjoyed teaching 4th/5th for the last nine years. Jenn loves to create a curriculum that is engaging and meaningful for the busy teacher as The Teacher Next Door. Jenn is also the mother of two children and lives in Northern California.