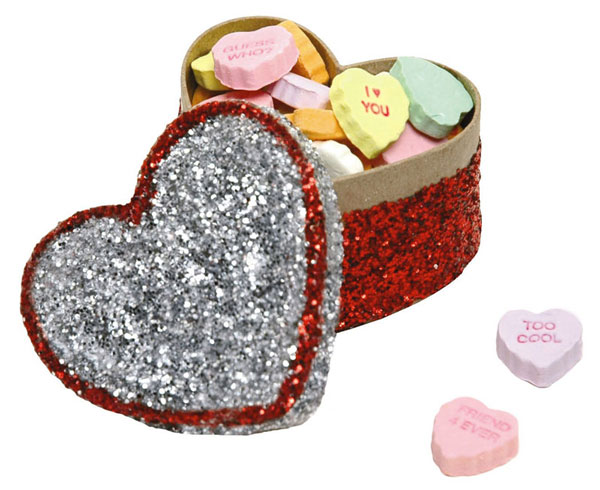 PRODUCTS USED
Creativity Street® Papier Maché, Heart Box with Lid
ADDITIONAL PRODUCTS
PROJECT DETAILS
This Valentine's Day give your friends a sweet treat in this glitter heart box.
STEPS
Draw a line where the cover meets the bottom of the box. You don't want to decorate above this line so that the cover fits on. (See picture.)

If you want a design on top, draw the design with glue, add glitter and let dry. When dry, fill in the spaces with glue and add a different color glitter. (See picture.)

Now add glue in small sections to the bottom of the box and sprinkle glitter on, let dry. (For best results lightly use your finger tip to press the glitter down and flip the base every few minutes so the glue doesn't all drip to the top or the bottom but dries evenly).

Once everything is dry, apply a thin layer of Mod Podge over the top of your glitter heart box and let dry. This will seal it and help prevent the glitter from falling off.

Add some fun Valentine's Day candy to your heart box and give it to a friend.